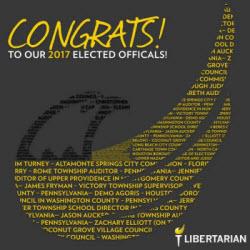 While we wish we could report more victories, the 2017 elections had some bright spots for Ohio Libertarians. More importantly, the results demonstrate a growing interest in the Party and bodes well for our ability to maintain our Party status once we complete our Ballot Access Petition drive. Assuming the courts enforce the law and allow us to remain a recognized party with more than 3% of the vote.
Congratulations to Ohio's latest Libertarian Council member! In Miami County, Libertarian, Trishandra Barhorst won a Village of Pleasant Hill Council seat!
In what is an interesting approach to nullifying a bad law, the city of Athens voted to pass an ordinance that all penalties (and court costs) for misdemeanor marijuana offences will be fined exactly $0. Of course, it's still illegal but the enforcement incentive has been removed. Well played Athens!
Hopefully the Ohio State legislature will recognize the failure of Issue 2 as a rebuke to their continued failure to address the core issues of health care and that further bureaucracy and regulations isn't the answer.
The Chicken ordinance in Colombiana failed, but in the spirit of the Columbiana Charter, without an ordinance, backyard chickens are now only illegal because there is no law allowing them. In the Mayor's words, "if there is not something expressly in this code that says that you can have one, you technically can't. (see Preserving the Right to Grow).
Dustin Nanna pulled in nearly 14% in a contested race for an At Large seat for Delaware City Council.
Voters in North Canton (Stark County) defeated the school funding issue (Issue 44) which would have increased the school levy by 50% in addition to a permanent 50% Income tax rate (to 2.25%). Fortunately, the measure failed with 68% of the vote.
Wood County had two strong showings for Libertarian candidates. Nathan Eberly put in a strong showing in a six-way race for the Bowling Green Council at large seat! Todd Grayson, nearly earned a seat in the highly contested bid for the Perrysburg City Council seat.

Thank you to all the candidates that ran. Win or fail, you represent the future and hope of the Libertarian Party and our children's futures.