We are excited to get things rolling for the 2022 LPO State Convention with a Theme Contest. During the first round, the Convention Oversight Committee voted and choose the following as the top 5 entries:

Liberty Anew in '22
Libertarianism is Consent Culture
Free the "Free" Country
Don't Tread on my Ballot Access
Principled Government: Ending Systemic Coercion
Now its time to vote with your dollars! Every dollar you donate towards your choice helps it win! Donations towards this contest help to keep the convention more affordable for everyone. Keep in mind that $25 is just the minimum for submitting a theme, and all of your theme contest donations count toward LPO Lifetime memberships as well as the final theme outcome, so…Vote early! Vote often! Vote big and Vote here!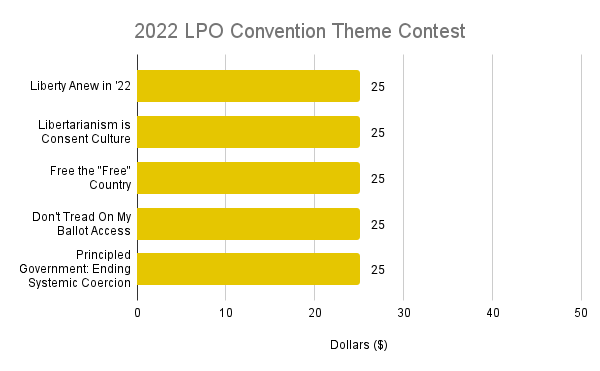 2022 LPO State Convention Theme Contest