As a grass-roots movement, Libertarians rely on individual volunteers to affect long term change by building strong support at the local level. While Libertarians are well represented all across Ohio, many counties have organized to defend liberty at the local level. Many have social media groups, some have County Development Groups, and a few have developed enough strength to form independent County Affiliates of the Libertarian Party. All are organized to support Libertarian candidates at all levels of government.
Contact information for each is listed below including a detail of each county and each region with links to social media sites.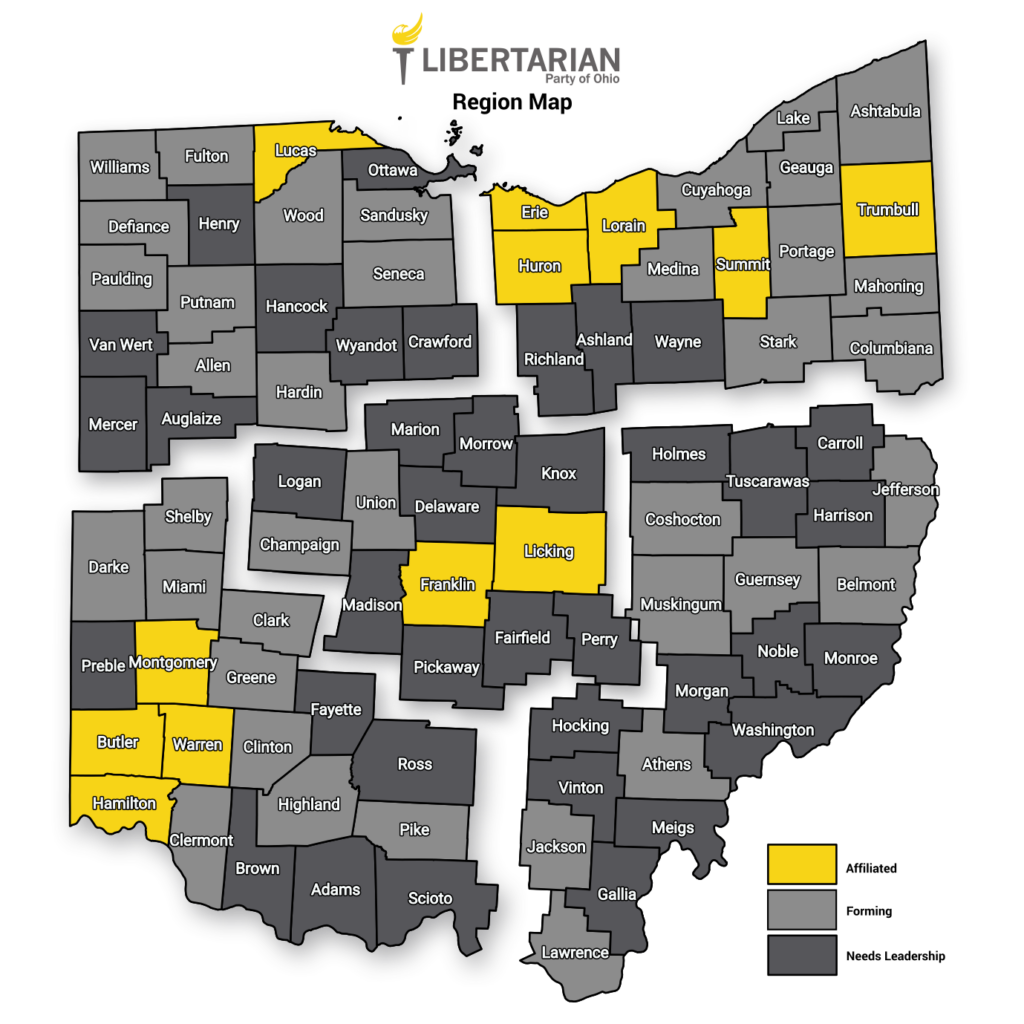 If you do not see your county as active on this page and would like to get involved, please Contact Us and express your interest!
---
Regional Liaisons
Regional Liaisons work with the Field Development Division to develop affiliates and support all counties in five regions across the state.
Vacant
Northwest Region Liaison
Allen, Auglaize, Crawford, Defiance, Fulton, Hancock, Hardin, Henry, Lucas, Mercer, Ottawa, Paulding, Putnam, Sandusky, Seneca, Van Wert, Williams, Wood, and Wyandot counties.
Vacant
Northeast Region Liaison
Ashland, Ashtabula, Columbiana, Cuyahoga, Erie, Geauga, Huron, Lake, Lorain, Mahoning, Medina, Portage, Richland, Stark, Summit, Trumbull, and Wayne counties.
Vacant
Central Region Liaison
Champaign, Delaware, Fairfield, Franklin, Knox, Licking, Logan, Madison, Marion, Morrow, Perry, Pickaway, and Union counties.
Vacant
Southwest Region Liaison
Adams, Brown, Butler, Clark, Clermont, Clinton, Darke, Fayette, Greene, Hamilton, Highland, Miami, Montgomery, Pike, Preble, Ross, Scioto, Shelby, and Warren counties.
Vacant
Southeast Region Liaison
Athens, Belmont, Carroll, Coshocton, Gallia, Guernsey, Harrison, Hocking, Holmes, Jackson, Jefferson, Lawrence, Meigs, Monroe, Morgan, Muskingum, Noble, Tuscarawas, Vinton, and Washington counties.
---
County Affiliates