Libertarian Party of Montgomery County Biennial Convention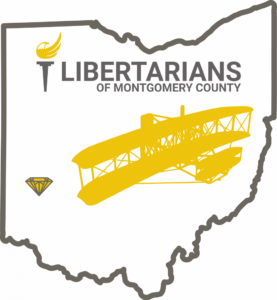 June 16, 2022
@
6:00 pm
–
8:00 pm
Welcome to the first biennial Regular Convention of the Libertarian Party of Montgomery!
Please note that the Convention will not be held at our usual venue, but is at the Marriott UD, in order to guarantee a private room.
Tickets are free, but space at this venue is limited! Reserve your ticket at the EventBrite link below! Click the button that says Reserve Ticket Here.
If you plan to run for one of the five seats on the Executive Committee, or would like to propose an amendment to the party Constitution, please email us at the address below. Proposed amendments must be published no later than May 17 – so we need to receive them before that. The current Constitution and Bylaws can be found here: Constitution and Bylaws
Free
An entrée and soft drink are provided
Montgomery County Libertarian Party of Ohio
montgomerycounty@lpo.org